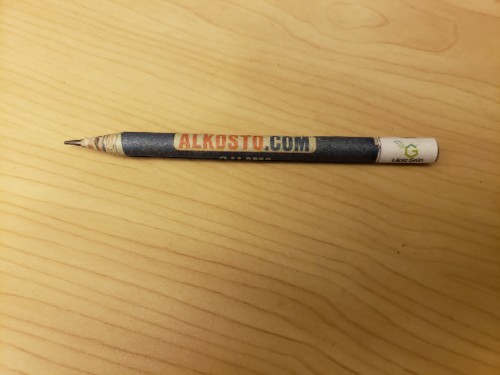 Today's episode tells the story of a humble pencil - Lapiz Grun.
It's an entrepreneurial venture to benefit vulnerable people in Colombia financially while simultaneously creating a closed loop cycle - for a sustainable circular economy - in graphite and in paper.
I am indebted to Juan David Pinzon, Jeffrey Jimenez and Ian Carlo Jimenez for contributing to this episode with their creativity and passion for making a difference in Bogota, In Colombia and the world.
Ken Alston with Jeffrey Jimenez at the CEID 12th Annual International Environmental Conference in Bogota, Colombia October 22, 2019.
Their project is an INSPIRATION and forms a model for what anyone can do anywhere.
How many materials you we imagine taking out of the waste stream and reconverting them to valuable goods and services.
Individually, initiatives like these seem small, but collectively they are HUGE.
Economic, social and environmental creativity and innovation - that's the heartbeat of a sustainable circular economy.
Learn more about Grun Management and the LapizGrun project:
https://www.instagram.com/grunmanagementsas/
https://www.facebook.com/GrunManagementSAS
https://twitter.com/GrunManagement
https://www.linkedin.com/company/grun-management
Contact: gerencia @ grunmangement.com